<![if !vml]>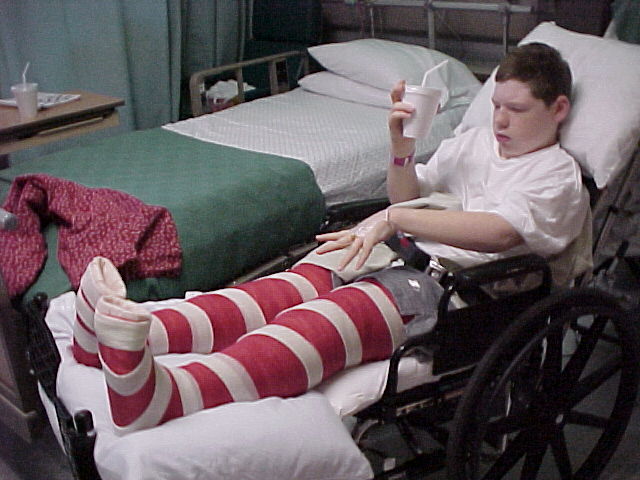 <![endif]>
          Hello everyone….
                   Geoffrey's temperature was normal by about .  Geoffrey is feeling much better.  He is still having difficulty eating.  He eats only a few bites of Jell-O, then says he is full or feels sick.  I guess it is just going to take time to get his appetite back after surgery and being so sick. 
                   The doctor says if everything goes well he may be able to come home on Tuesday.  Geoffrey got out of bed into his wheel chair for a little while today.  We are finding out it takes quite a bit of help to move him from the bed to the chair.  Hopefully it will get easier with practice.  Sitting up was hard and caused a lot of pain.  He stayed in his chair about 30 minutes.  We hope he can increase the time over the next few days.
                   Today they took off Geoffrey's leg immobilizers and recast his legs.  He now has 2 cast from the thigh down. 
As for cast color voting….
There was a tie between glow in the dark and red.  When we went to the cast room Geoffrey told them about the contest, and several options were discusses (for example: one leg red, one leg glow in the dark)… but the final outcome was two red casts with glow in the dark stripes (cool).
<![if !vml]>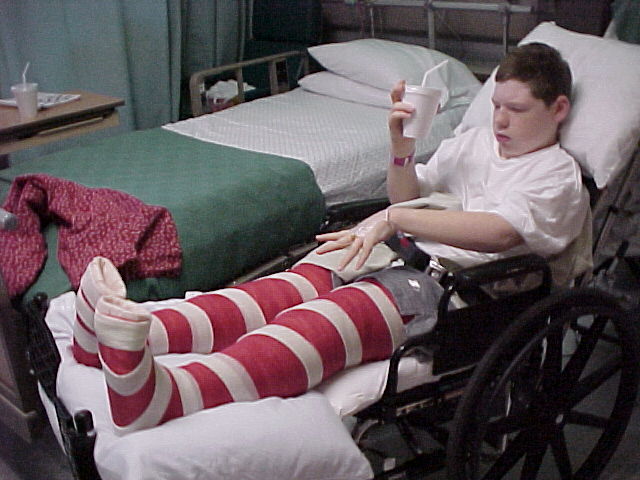 <![endif]>
                   Thanks for all the input; he definitely has cast worth talking about now.