<![if !vml]>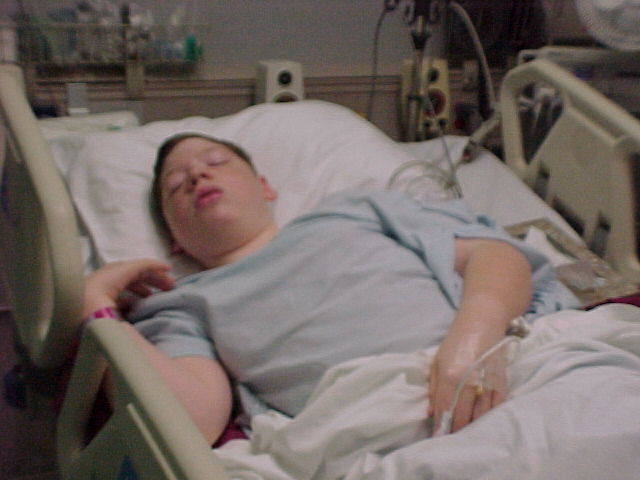 <![endif]>
          Hello everyone….
                   Today was Geoffrey's first full day in the Intensive Care Unit (ICU).  He still has a fever but it is considerably lower than last night.  From the picture below you can see he continues to sleep a lot, but thankfully the epidural is keeping him comfortable and without much pain.
                                                                                                <![if !vml]>
<![endif]> 
                   Last night he had two casts that went from his thighs to his toes, but last night the both cast got wet and dirty, so the doctors had to cut the top part of his cast off.  He now has 2 cast from below his knees down.  They have place long leg braces to keep the rest of his leg immobilized.  Here are pictures of his leg immobilizers and cast.  Keep voting about color; because they will still color wrap the cast from the knees down.
                             <![if !vml]>
<![endif]>
          He has very nice nurses who look after him in ICU.   Amanda works with Geoffrey during the day, while Lori works with Geoffrey at night.
Here a picture of Geoffrey and his ICU nurses.
<![if !vml]>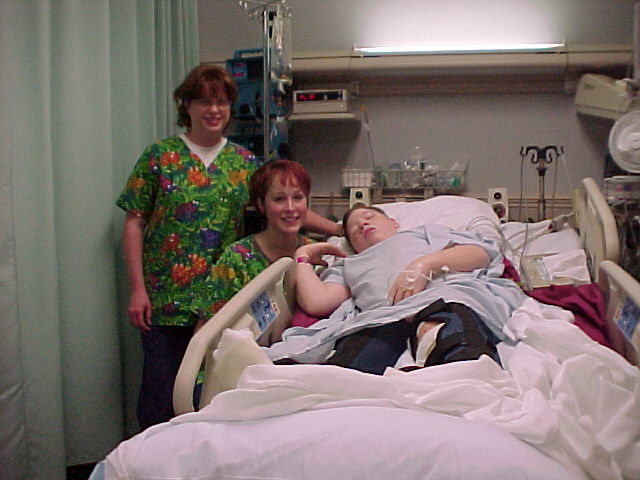 <![endif]>

          The doctors are trying a new type of pain medication on Geoffrey and a news crew from PBS will be coming tomorrow to see Geoffrey, and interview the doctors, nurses, Robert and I.  I will let you know when you can see Geoffrey on TV.
          If everything continues to go well, the doctor will remove his epidural and he will begin taking pain medication by mouth.  After the epidural (a tube put in his back to help with pain) is removed, Geoffrey will be able to go to his regular hospital room.  Geoffrey is looking forward to moving back downstairs.
Please continue to keep him in your prayers as the transition from epidural to oral pain medication is often painful and difficult.  The doctor has explained he will have muscle cramps during this transition and they can be very painful.
Love you all
Ellen